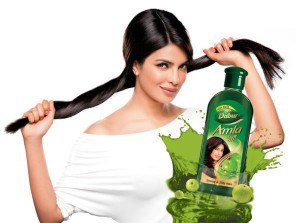 Fruits of amla tree, which grow in Asia, are used for hair masks, dyes and oils production. They contain a lot of precious features and ingredients such as minerals, vitamins and antioxidants. Thanks to applying products that include amla fruits, we can be positive that hair will become healthy, strong and shiny. What is more, scalp will become nourished and relieved. Furthermore, amla provides hair growth and density improvement. It helps with fighting against dandruff and excessive sebum production. The second natural colourant is henna which is extracted from leaves and springs of Lawsonia inermis (also known as hina, mignonette tree or simply henna tree). Although this plant was already well-known in antiquity, it is widely used for body and hair painting even nowadays. How to prepare henna? Powdered Lawsonia has to be mixed with lemon juice and left for a few hours blocking oxygen access. This kind of a mixture has to be applied to hair and left on for another several hours. Naturally, eyebrows and eyelashes can be dyed in the same manner. Indigo is the third natural colourant to describe. It is extracted from Indigofera leaves, tropical bushes growing, among others, in India. In most cases, it is used for fabric colouring. Actually, Asian tribes use Indigo for hair dyeing. It gifts strands with a cool, dark blue shade. Amla, henna and indigo fruits can be used for preparing homemade hair dyes.
Amount of henna and indigo used depends on our natural hair colour and on the final outcome we would like to obtain. When it comes to amla fruits, these have to be selected keeping the following proportions: 1 part of amla for every 3 parts of henna. Henna and lemon juice have to be stirred in a glass bowl until even and dense paste obtained. The bowl has to be wrapped with a foil and left for 12 hours. Next, prepare amla (mix the powder with warm water) and indigo (mix the colourant with warm water and add the mixture of henna and amla). Apply your homemade hair dye to dry hair, separating strand after strand, starting from the base of head. Then, put on a foil cap and a towel. Remove the residues of the dye from neck, forehead and ears. After 6 hours, wash the head with a delicate shampoo. Certainly, amount of the homemade dye depends on the length of hair. To demonstrate, 100 grams of the product is enough for short hair and 500 grams for longer hair.
In order to obtain the most favoured effects, it is advisable to follow a few useful hints. If you have never dyed your hair with a mixture of amla, henna and indigo before, conduct a test first. At the beginning, mix a few grams of each substance and apply them on one strand only. In this way, you will be able to see if the effect produced is suitable for you. What is more, during preparing the mixture, follow the steps precisely – do not add any extra ingredients and do not freeze the mixture (it will lost its features). Furthermore, henna and amla have cleansing action. For that reason, both natural substances can be used for taking care of greasy scalp. The homemade hair dye is easy to be removed, therefore there is no need in bothering about getting face stained. Finally, the greenish shade, which appears right after rinsing the dye off, disappears due to oxidizing. All that we are left with is natural effect.