Hair oils are very popular care products. Women love using this kind of cosmetics because of both the incredible effects they produce as well as their immediate action. Hair oils make it easier to fight against scalp ailments and improve general hair condition. And what is the best about these products is that they influence complexion and body skin in an absolutely positive way. Naturally, action of a particular hair oil depends not only on the elements the oil is composed of but also on the manner of application we decide to adapt. The latest beauty researches have discovered beneficial action of oil extracted from green amla fruits. What are its characteristics, how does it work and what is the composition of amla oil?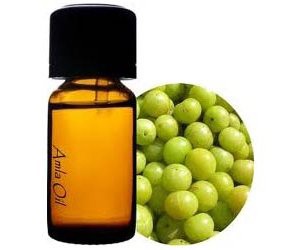 Amla hair oil is produced from green fruits growing on a tree coming from Asia. It is used in natural medicine (Ayurveda) and in cosmetology (for dyeing and pampering hair). What is more, amla fruits contain antioxidants (substances eliminating free radicals which are responsible for slowing down ageing processes), strengthening and immunizing C vitamin as well as proteins, carbohydrates, fibre, mineral salts and iron. Moreover, this plant is combined with henna and indigo for creating natural hair dyes.
Amla hair oil is recommended for conditioning, regenerating and nourishing strands. If applied regularly, it greatly improves condition of strands, strengthens hair bulbs and has beneficial working on scalp. Thanks to the product, hair is smoothed, shiny and flexible. Furthermore, amla hair oil accelerates strand growth, regenerates split ends and moisturizes dehydrated hair. What might seem interesting, this natural cosmetic defines curl of strands, therefore it can be used for hair styling and curls fixing. Another positive action of amla oil to mention, it prevents hair loss and premature greying. It is also able to darken both natural colour of strands as well as the lightened up. Additionally, amla oil affects scalp in a positive way since it has antibacterial and cleansing features. For that reason, it can be perceived as a friend helping with eliminating dandruff and improper working of sebaceous glands. The last asset of amla oil is that the product is able to protect strands against solar radiation and other destructive aggressors coming from external environment.
What are the directions of amla oil use? The good news is that we can apply amla oil as frequently as we wish. However, for obtaining the most satisfying outcomes, it is suggested using the cosmetic at least twice a week. Basically, amla oil can be applied as an individual cosmetic, in an hour before shampooing, or it can be used as an additive to a shampoo or a hair mask. Obviously, amla oil treatment can be combined with scalp massages. Thanks to the massage, blood circulation of scalp epidermis will be improved as hair bulbs will be strengthened. Finally yet importantly, a conditioner enriched with amla oil facilitates eliminating problem of dry and itchy scalp. It deals with split ends equally effective.